Instagram location ideas for Girls & Boys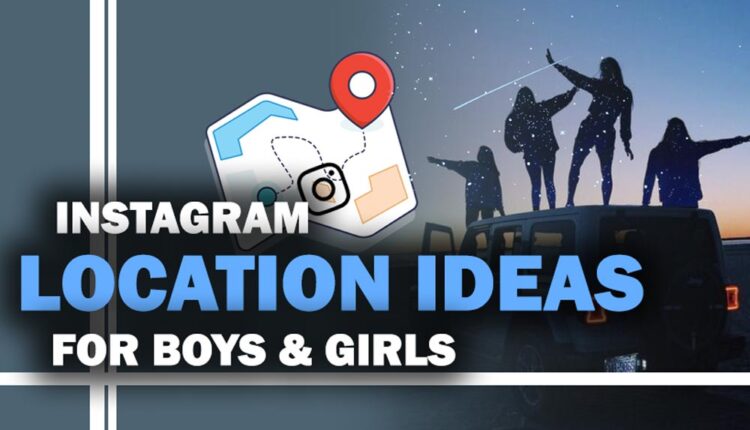 Instagram is the first choice for everyone to share their pictures or make stories. The number of posts shared on this popular platform is 8.95 million photos and videos every day. This number is unbelievable.
You need to use all the features on Instagram to share engaging content. Write a great caption, add related hashtags, and don't forget to use location.
Most users don't pay attention to location, and they don't add any. But if you use all the features on Instagram, you can get more engagement rate, and your post will act better on the feed section.
What are the advantages of using location tags on your posts?
You might not know the advantages of using and adding location to your posts. But it is actually effective, and it helps you in 2 ways, which are:
Grow your reach post:

It makes the process quicker for you to reach new followers and also makes sure your posts show up in more searches.

Get more engagement:

based on some reports, the posts labeled with location tags are 79% more engaging than others! This should make you share your favorite photo while eating in a restaurant and add their location right NOW!
How can you add location on your Instagram posts?
To add your location to Instagram, follow the guide below:
Create a post, and write your caption.
Tap on "Add Location."
Type in your desired location.
 And then, it should appear on the list.
Click on your location and then share your post.
But these are some pre-made locations, and they might not be funny! You want something more creative. Or even, you might create your custom location.
For that, you need to read the following section.
How to create a custom location tag on Instagram?
Your Instagram location tag can be anything you want, but it requires some process.
If you are interested in making one, follow the steps below:
Open your Facebook app, click on "What's on your mind" at the top.
Tap on Check-in.
Make sure you have turned on your location permission.
Type your new location name in that section.
Find "add," After tapping on it, you have your new location.
Now let's see what you can add to your new location to get more attention?
Instagram's location ideas
In this part, we have added some locations for your Instagram posts you can get inspired and use them for your posts.
Instagram's location ideas for Girls:
| | | | |
| --- | --- | --- | --- |
| Princess Palace. | Work and fun | Disco time | Rose |
| Somewhere close | Sweet like a girl | Home sweet home | Shop will cure |
| Earth | Mind palace | Almost perfect | Nature |
| Inside you | Eureka | Coffee. Coffee. | Granny's house |
Instagram's location ideas for Boys:
| | | | |
| --- | --- | --- | --- |
| Almost there | Missing you | Star buzz | Wasted |
| Drink, drank, drunk | Somewhere on earth | Waiting for you | Help me go home |
| Let's go party | Vampire palace | Drunk in public | Idiot |
| I'm SHY | My soul food | Mind reading | K. |
Instagram's location ideas for traveling:
| | | | |
| --- | --- | --- | --- |
| Hit the road | Cat Island | Hell on earth | Inside water |
| Nowhere important | Best place in the world | An unexpected adventure | (Name of the countries) |
| City of stars | Travel | Sandman | Train |
| Flight | The North Pole | Vibes don't lie | City of colors |
Instagram funny location ideas:
| | | | |
| --- | --- | --- | --- |
| Over The Rainbow | Bibbidi bobbidi boo | Rock paper scissors | Bob Ross (for painters) |
| My dad's home | Eating a lot | on the floor | Hangover Central |
| Catch on | Feed ME | Tunnels | Coming soon |
| Hanging in cupboard | The night we met | Hips don't lie | Tie |
Instagram cool location ideas:
| | | | |
| --- | --- | --- | --- |
| Like a boss | But first, photo | All the things | Wild and free |
| Nailed it | New look | Bucket list | My room |
| Coming soon | Weekend vibes | Why not me? | Opening soon |
| Just happened | Limited edition | Normal is boring | Times like this |
Conclusion
Adding location on your posts sometimes is underestimated by users. They don't know the value of sharing this tag. As we mentioned above, you can boost your engagement rate using this feature.
We have added some attractive locations that you can add to your posts and make them more appealing.
Gaining followers is easy on Instagram; all you need to do is pay attention to the details.
If you have any other ideas about this, please inform us in the comment below. What do you think of adding the location in your pots?